Written by: Jeanne Bellezzo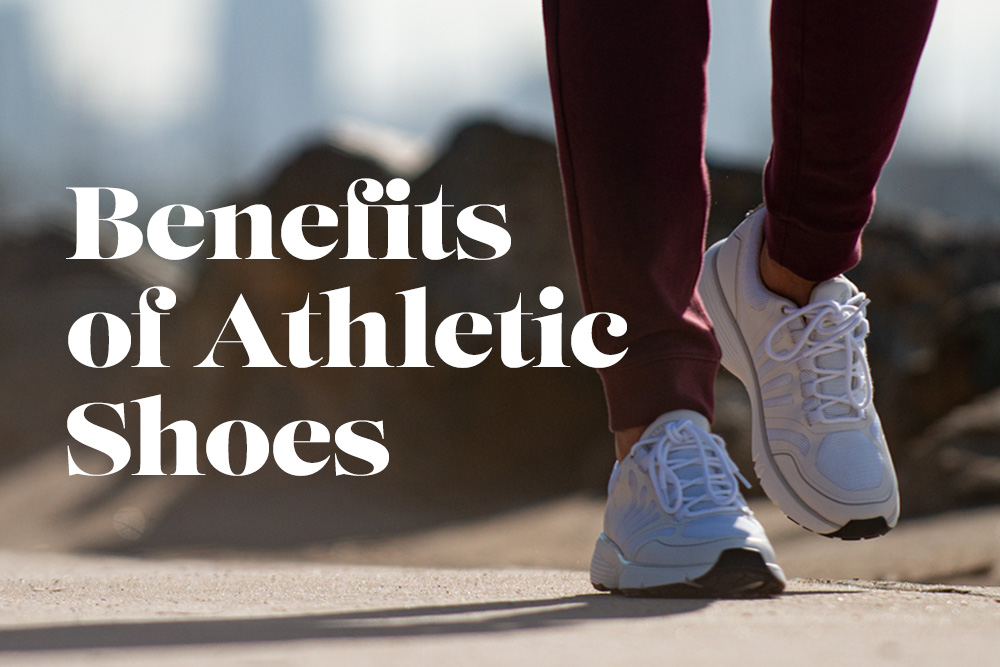 Happy Feet: Benefits of Athletic Shoes
Written by: Jeanne Bellezzo
Exercise has so many benefits – it strengthens your heart, helps you lose or maintain weight, and gets your "feel good" endorphins flowing. Even a brief walk can benefit body and mind, especially if you do it outdoors in nature. But, it's important to have the right footwear, particularly if you have foot-related health conditions.
Dr. Comfort® offers a full line of athletic shoes for men and women to help support and cushion your feet, whether you're walking, running or just running errands. We've combined special features for stability and protection with the style and comfort that motivates you to move.  With various style options to choose from, they are supportive athletic shoes for people with diabetes symptoms related to feet and toes, as well as a number of other foot conditions such as bunions, hammertoes, plantar fasciitis (heel pain) and more.*
"says Brian Lane, Director of Education at Dr. Comfort. "Our stability outsole shoes are great for people with balance issues or overpronation due to the outflare outsole. Rubber/EVA soles benefit people with conditions like plantar fasciitis or severe pronation or supination, which is when the foot rolls to the inside or outside. And both our quick-tie laces and hook and loop closures make it easy to get in and out of the shoes."

Walking Shoes
Walk a few blocks or a few miles with comfortable support. Our lightweight walking shoes offer features such as rubber treading at the toe and heel, padded heels and tongues for extra comfort and external shank pieces to help reduce the load on your feet and maintain your balance on uneven terrain. Breathable micro-mesh interiors let air circulate around your feet; choose stylish mesh like Jason, Chris and Meghan or leather or textile uppers like Endurance and Victory. Dr. Comfort athletic walking shoes can help feet affected by diabetes, edema, hammertoes, bunions, or plantar fasciitis (heel pain), as well as pronation or supination.

Running Shoes
Ready to take it up a notch? Our Gordon and Grace running shoes help your feet power through. Our wider stability outsole with EVA and rubber is designed to provide enhanced support and help prevent your feet from rolling inward (overpronation); a roomier toe box gives toes more space. Keep your feet feeling good with an extended heel counter, increased toe spring, breathable mesh uppers and soft micro-suede interiors to help prevent abrasion. Our running shoes are ideal if you have balance or stability concerns, poor circulation in your legs or feet, lack protective sensation or overpronate.

Athleisure Styles
 Want the comfort and style of athletic shoes even when you're not exercising? Check out our Jack and Diane athleisure styles. These lightweight, athletically inspired shoes offer all the support of our stability outsole, along with a reinforced thermo-molded heel counter, increased toe spring and reduced seam lines. Be comfortably fashionable with leather or synthetic knit uppers and comfy Lycra®* interiors for all-day breathability. Like our running shoes, our athleisure styles are a great choice if you're concerned about balance or stability, have circulation or sensation issues, and/or your feet roll inward as you walk.
*Please reference our complete catalog for specific indications per style.
* Lycra® is a registered trademark of INVISTA NORTH AMERICA S.A.R.L.
The contents of this blog were independently prepared, and are for informational purposes only. The opinions expressed herein are those of the author and are not necessarily indicative of the views of any other party. Individual results may vary depending on a variety of patient-specific attributes and related factors.