By: Jeanne Bellezzo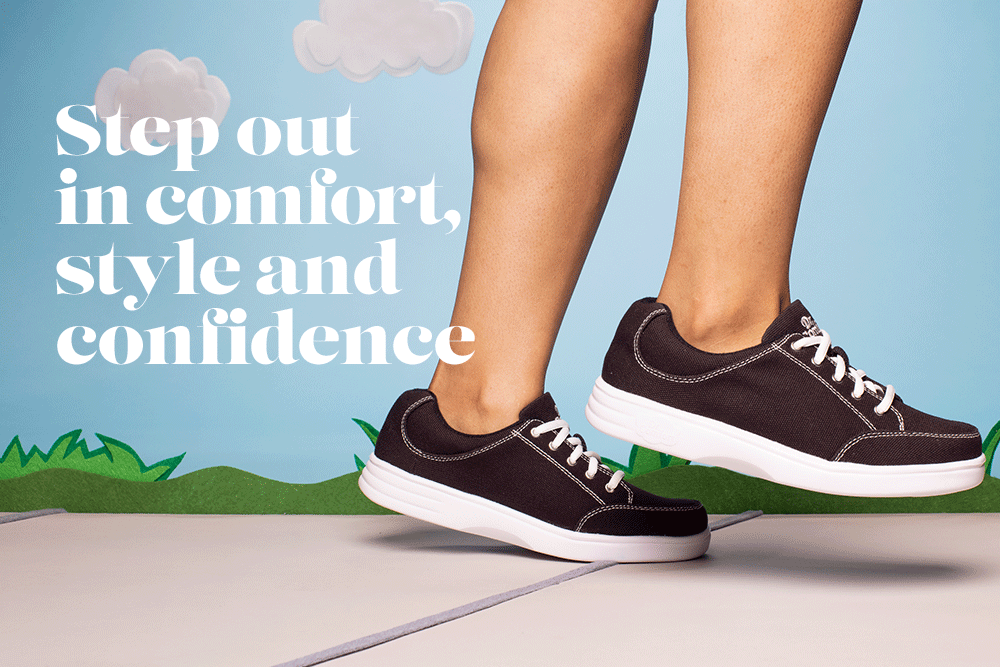 When you're living with diabetes, you know it's important to take especially good care of your feet. Keep them clean, dry and protected – and make smart decisions about your footwear.
The shoes you wear can help make a big difference in your foot health and comfort. Footwear that offers little or no support, compresses your feet or toes, or puts pressure on vulnerable areas can contribute to potential problems ranging from blisters and toe deformities to ulcers and serious infections. Researchers in an Australian study recommended people with diabetes should be advised to wear footwear that fits, protects and accommodates the shape of their feet.1
"That's where therapeutic footwear comes in," says Brian Lane, Director of Education at Dr. Comfort®.  "Specially designed and constructed to help protect your feet and provide exceptional comfort, diabetic footwear offers important features and benefits for people with diabetes."
And despite their name, modern therapeutic shoes look anything but therapeutic. In fact, Dr. Comfort was founded on the belief that footwear for people with diabetes (and other conditions that affect feet) can be both healthy and stylish. Our shoes combine comfort and protection with fashionable designs in a wide range of attractive styles and colors that you'll want to wear – because if you don't wear them, they can't help you.
Features to look for
When you're shopping for diabetic footwear, keep the following features in mind:
Extra-wide widths: Extra width provides plenty of room for foot comfort, so the shoe doesn't pinch or constrict nerves or impair circulation.
Large toe boxes: A wide toe box helps reduce pressure on the foot and gives the toes room to stretch and relax without feeling cramped or restricted. It also helps reduce the risk of injury.
Easy on/off closure systems: Laces, straps and hook-and-loop closures provide a secure, customizable fit, so the shoe is easy to slip on and off and adjust for comfort.
Firm heel counter: A solid heel provides extra protection, support and stability.
Padded tongue: Soft padding on the tongue helps prevent friction and improve overall fit.
Extra-depth options: Extra depth accommodates custom insoles and orthotics comfortably.
"In addition, look for approval by the American Podiatric Medical Association (APMA)," says Lane.
Comfortable shoes for every occasion
Dr. Comfort offers diabetic shoes for almost any need: casual, athletic, dressy and more – even boots and sandals. We use only the finest materials, technology and craftsmanship to help ensure quality and comfort.
Talk to your doctor or healthcare professional about whether Dr. Comfort shoes are right for you. In many cases, diabetic footwear may be covered by Medicare and supplementary insurance.
van Netten JJ, Lazzarini PA, Armstrong DG, Bus SA, Fitridge R, Harding K, Kinnear E, Malone M, Menz HB, Perrin BM, Postema K, Prentice J, Schott KH, Wraight PR. Diabetic Foot Australia guideline on footwear for people with diabetes. J Foot Ankle Res. 2018 Jan 15;11:2. doi: 10.1186/s13047-017-0244-z. PMID: 29371890; PMCID: PMC5769299.
The contents of this blog were independently prepared, and are for informational purposes only. The opinions expressed herein are those of the author and are not necessarily indicative of the views of any other party. Individual results may vary depending on a variety of patient-specific attributes and related factors.