Written by Brian Lane, C.Ped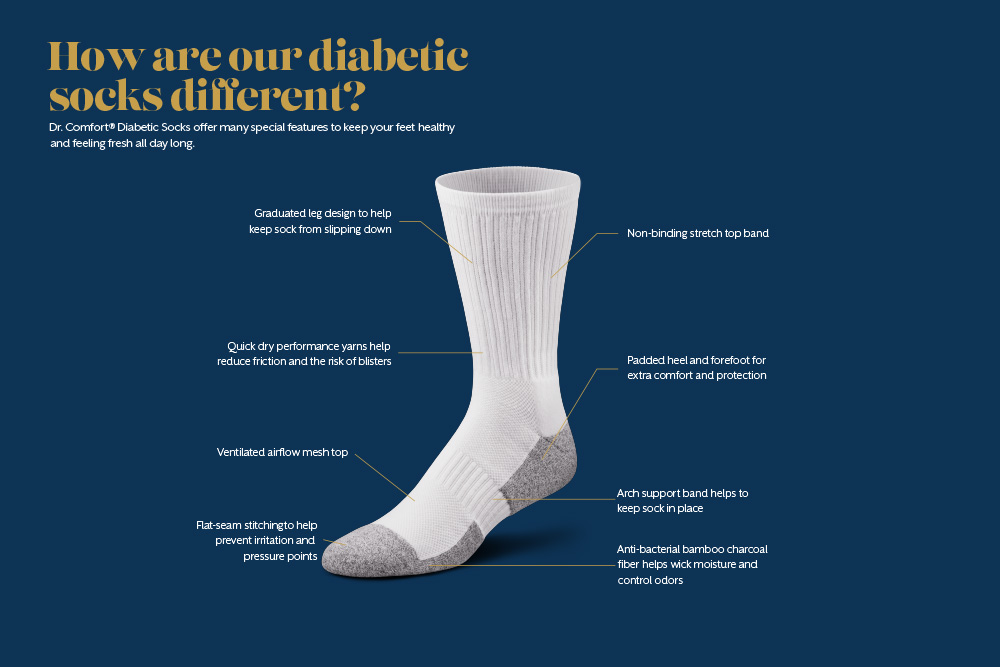 So, you've ordered a pair of Dr. Comfort® shoes and you are still wearing those cheap, holey socks?  Time for an upgrade! These socks are going to change your life!
The Dr. Comfort® socks are called "diabetic" socks, but they are great for everyone! The features include a ventilated airflow mesh top which keep the feet cool; nano-bamboo charcoal to promote wicking which keep feet dry; an arch band to prevent bunching; and materials which promote stretch in case of minor swelling and for comfort.  In addition, Dr. Comfort® socks are available in many different designs—merry jane, no show, ankle, crew, extra roomy and over the calf.  With all those great features and designs, who wouldn't enjoy these socks?!
There is one problem with the socks, though. The dilemma is that you won't want another kind of sock after Dr. Comfort's socks are on your feet! You will be asking for the socks as gifts for your birthday and soon you will be gifting them to all your friends and family. (I told you the socks were going to change your life). You might even get a nickname after giving away all those socks. I did.
My last recommendation to you is to purchase at least 3 pairs of socks….one to be wearing…..one to be washing….and the third pair that always gets lost.  Enjoy the socks.  I know I do!
-Sock Man
The contents of this blog were independently prepared and are for informational purposes only. The opinions expressed herein are those of the author and are not necessarily indicative of the views of any other party. Individual results may vary depending on a variety of patient-specific attributes and related factors.