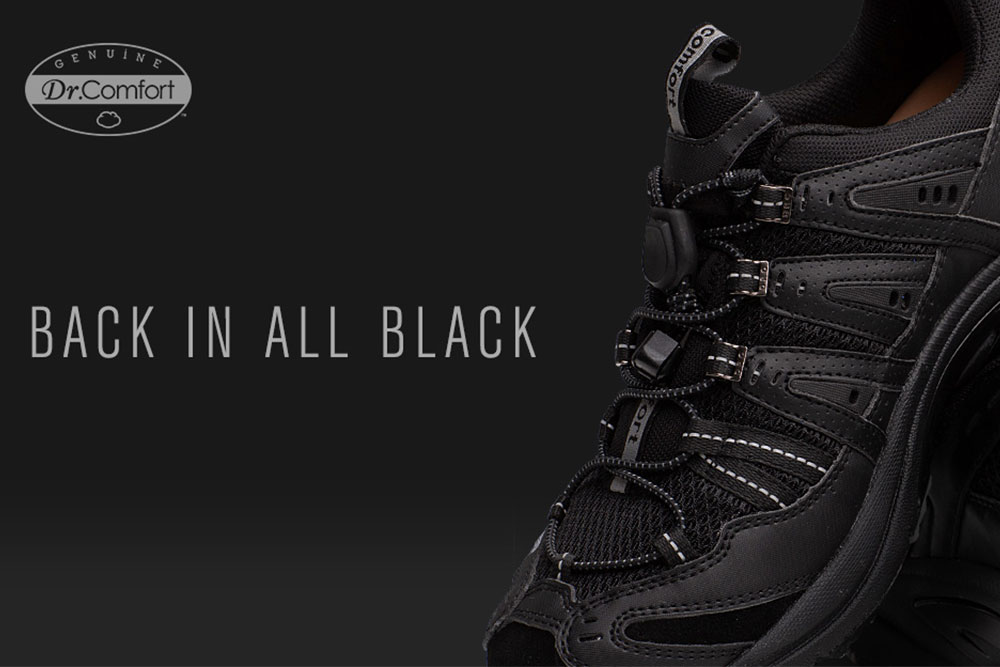 A Dr. Comfort® classic sneaker that keeps getting better and better.
Whether living with diabetes or other foot health conditions, our goal here at Dr. Comfort® is to provide you with comfortable, no-bulk, attractive shoes that can help protect your feet. A shoe that helps prevent skin irritation and is easy to put on is a must. And we are proud to carry the Performance and Refresh athletic shoes that provide fashion and function to make your life easier and feet more comfortable.

These athletic shoes are always in season and deliver the right amount of support, comfort, and breathability for your foot health's needs.
And there's more. Here are four things to know about the Men's Performance and Women's Refresh sneakers.
New Colors
You spoke, and we listened. We've added all black to the Men's Performance and Women's Refresh collection! From work to activity, the additional color option pairs well with just about any outfit. Still offering the same great features with more style options.
Easy-to-Adjust Toggle Closure
The Refresh and Performance work to simplify the wearing of a traditional sneaker. Slide your foot in and adjust with the no-tie elastic lace closure system--no tying or untying needed--which helps to prevent skin irritation while delivering a secure fit.
Durable Material
From conquering trails to tackling errands around town, these sneakers are built to last.
The Performance and Refresh are constructed with high-quality material and mesh uppers to help regulate heat, keeping your foot cool and dry, and helps to prevent wear and tear—making this a longer lasting cross-trainer.
Protection and Stability
A step or an uneven surface can hurt your feet if not wearing sturdy, protective shoes. We crafted these sneakers with a wide, protective toe box for toe-stubbing protection and a firm heel counter for medial and lateral support and stability.
No matter what foot condition you have, the Refresh and Performance is an ideal athletic shoe to wear without sacrificing function and style.
Shop for the Men's Performance or Women's Refresh
The contents of this blog were independently prepared, and are for informational purposes only. The opinions expressed herein are those of the author and are not necessarily indicative of the views of any other party. Individual results may vary depending on a variety of patient-specific attributes and related factors.