Everyday Style Tri-Color Ombre
Unisex Compression Socks
Unisex, 15-20 mmHg below knee compression sock with a tri-color bold ombre stripe pattern. ✕

About Tri-Color Ombre Unisex Compression Socks
Rusty red, garnet and bright blue stripes transition from top to toe in a stand out ombre pattern. The benefits of 15-20 mmHg medical compression are delivered in this fashion forward knee length sock. The Dr. Comfort® Everyday Style Tri-color Ombre helps relieve swelling, energize tired, heavy feeling legs, reduce aches and discomfort in the legs. This nylon and spandex sock combines comfort, durability and machine wash and dry convenience making it a perfect choice for everyday wear.
Explore the Features
Easy ID, permanent device identification
Brand, size and compression are knit inside the top for easy matching and identification after washing.
Wide Stretch Comfort Top
Helps provide all day comfort with non-binding stretch
Seamless Toes
Flat toe closure helps prevent rubbing and irritation of skin
Light Protective Padding
Helps provide protection against injury to the skin. Cushions impact, helps reduce pressure and frictional force on the skin surface.
Graduated Compression
Compression decreases from ankle to top of leg, aiding with ease of application and helping promote circulatory wellness.
Convenient Garment Care
Easy care, machine washable and dryable
Recommended for the following conditions:
Recommended for men and women who want the benefits of compression and desire the look of fashion socks:
Anyone who needs to sit or stand for extended periods of time.
Pregnant women during and after pregnancy
Traveling by air, car, bus or train when restricted from movement for a long period
Everyday wear when mild symptoms of vein disorders and present
Additional Details
Sizes: M, L, XL
Colors: Blue
Material: 85% Nylon, 15% Spandex
Collection: Dr Comfort® Everyday Style
Type: Non-Reimbursable
Application Information:
Sit on a sturdy chair or side of the bed. This is to ensure proper balance.
Slide your hand inside the leg of the stocking and pinch the heel, pull down from top and turn inside out leaving the foot turned in.
With a firm grasp on each side of the stocking, stretch over toes and pull up over heel. Adjust heel and toe on foot. Stocking will be on foot with the leg still inside out.
Gradually work the stocking up the leg and over the calf. Place the top band in the correct position, then smooth any folds or wrinkles down toward the ankle. The top edge of a knee length stocking should sit 1-2" below the knee bend of the back of your leg.
Product Care
Machine wash in warm water on a gentle cycle and with a delicate detergent. Tumble dry low. Do not bleach, iron or wring dry.
Learn More
Compression Support Levels
Understanding Varicose Veins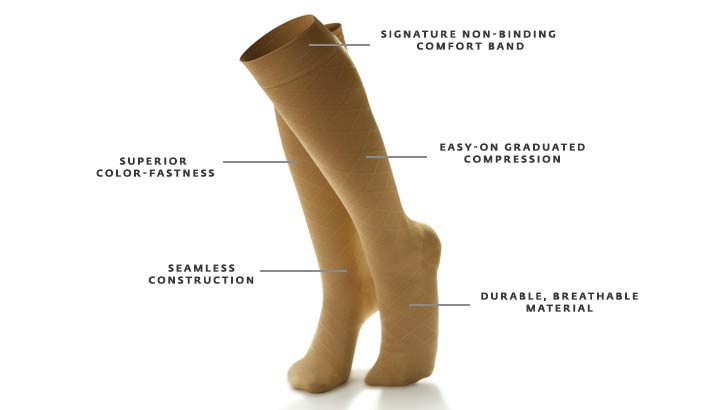 Dr. Comfort Technology
Engineered with innovative technology and high-quality material, our compression wear products combine function, fashion, and comfort to aid in preventative and therapeutic support.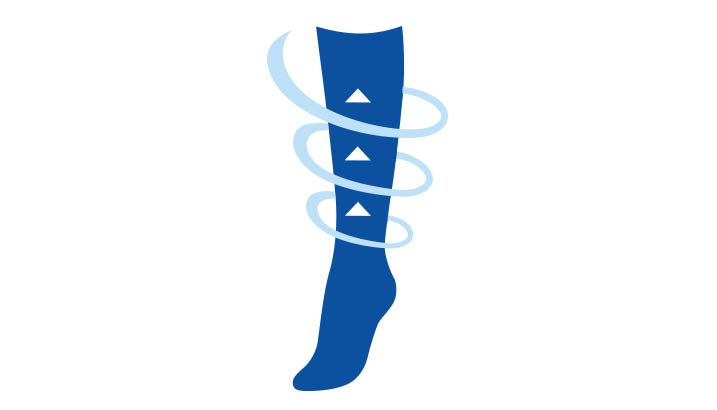 Compression Support Levels
Determining the right compression level can be tricky. We're here to help. There are four compression levels, which are measured in millimeters of mercury (mmHg). The higher the numbers, mean more compression.
10-15 mmHg: Low compression, helps relieve minor swelling of feet, ankles, and legs.
15-20 mmHg: Medium compression, helps relieve tired, aching legs, and swelling of feet, ankles, and legs. Helps to manage mild symptoms of varicose and spider veins.
20-30 mmHg: Firm compression, helps relieve moderate symptoms of varicose veins. Helps to prevent recurring venous leg ulcers, promote circulation and more.
30-40 mmHg: Extra firm compression, helps manage advanced symptoms of varicose veins, venous leg ulcers and more.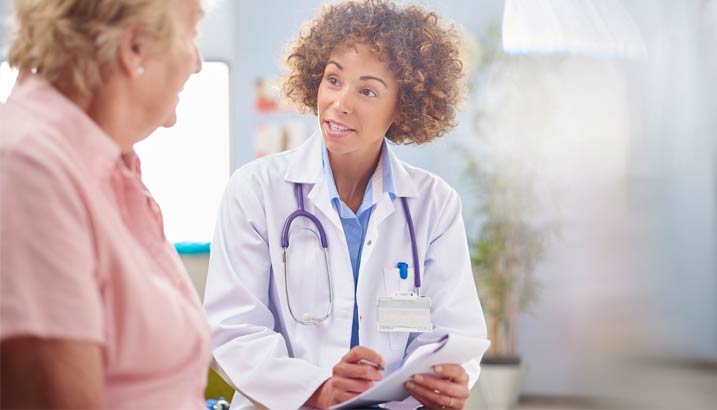 Understanding Varicose Veins
Varicose veins (also known as varicose or varicosities) happens when the veins become enlarged and overfilled with blood. Usually affecting the legs, ankles, and feet because they are the farthest from the heart and gravity makes it harder for the blood to flow upward. Symptoms can be skin discoloration, pain, swelling, aches or ulcers. Fortunately, wearing compression hosiery can help ease pain and prevent varicose veins from getting worse. The Everyday Style Connect the Dots supports your lower extremities, helping to circulate blood more efficiently in the veins and leg muscles.