Microfiber Opaque Thigh High
Compression Thigh High
Thigh-high women's compression stocking with lace top band that offers three levels of compression. ✕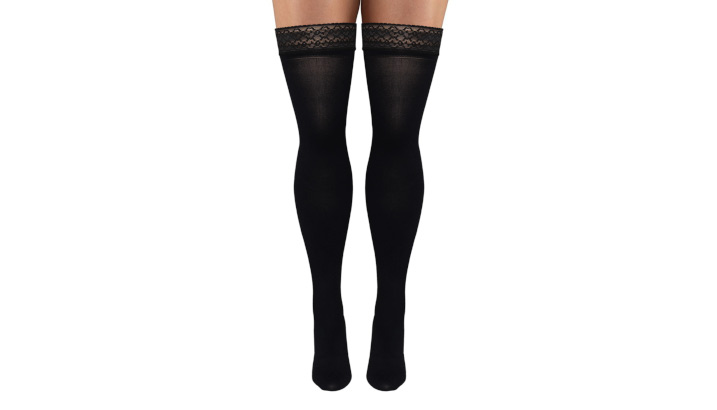 About Microfiber Opaque Thigh High Compression Socks
Functional compression thigh highs can be fashionable too. Meet the Dr. Comfort® Microfiber Opaque Thigh High that helps provide comfort and support while delivering medical-grade compression. Mid-weight and thigh-high length, the Opaque Thigh High comes in three compression levels, 10-15mmHg, 15-20mmHg, or 20-30mmHg to help improve circulatory wellness and valve function, as well as help reduce swelling in the legs, feet and ankles. The signature lace top band helps keep the compression thigh highs in place while the reinforced foot bottom helps provide strength and stays hidden in low-profile footwear. Made of nylon and spandex, the Opaque Thigh High delivers fashionable feminine support, style and comfort.
Explore the Features
Three Levels of Compression (10-15 mmHg, 15-20 mmHg, 20-30 mmHg)
Helps relieve swelling, fatigue and symptoms of varicose veins.
Medical Grade Support
Medical grade graduated compression helps to improve circulatory wellness and helps reduce swelling of the ankles, feet and legs
Easy On/Off
Mid-weight design helps allow for easy application and removal
Signature Lace Top Band
Signature lace top provides comfort and helps keep the stocking in place.
Reinforced Foot Bottom
Helps provide strength and support while staying hidden in low-profile shoes
Fitted Heel and Toe
Knit-to-shape, fitted heel, and roomy closed-toe design deliver comfort and support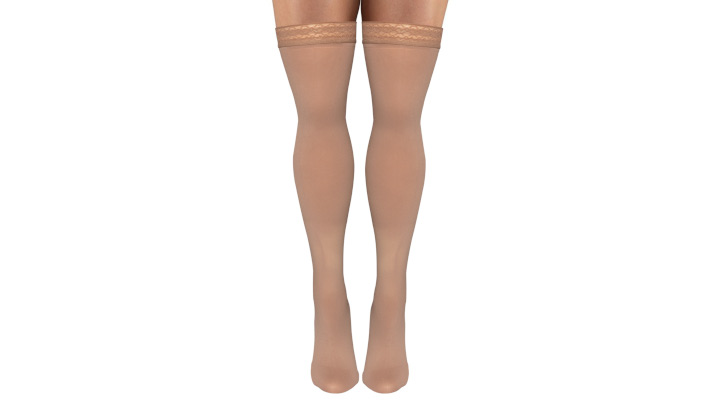 Recommended for the following conditions:
Anyone who needs to sit or stand for extended periods of time
Pregnant women during and after pregnancy
Traveling, by air, car, bus or train when restricted from movement for a long period
Recovering from surgery or vein procedures when compression stockings are recommended.
Everyday wear when symptoms of vein disorders are present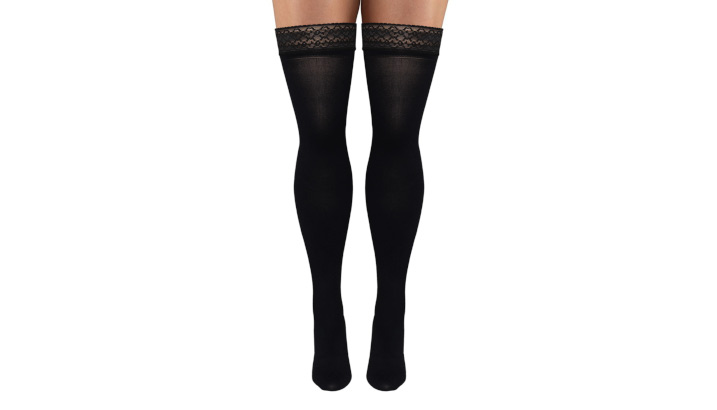 Additional Details
Sizes: S – XL
Compression Level: 10-15, 15-20, 20-30mmHg
Colors: Beige, Black
Material: Nylon and spandex
Collection: Opaque / Microfiber Opaque Women's
Reimbursable: Women's Non-Reimbursable
Instruction It is recommended to don compression stockings first thing in the morning, before feet begin to swell.
Gently pull stocking over your toes, instep and heel. Do not bunch fabric together.
Gradually work straight up over your calf, making sure toe and heel are positioned correctly.
Smooth out all wrinkles and folds
Product Care
Machine, or hand wash, in warm water on delicate cycle.
Tumble dry low, with low heat or (for best results) air dry.
Do not bleach, iron or wring dry.