Rejuva® Herringbone (15-20)
Unisex Compression Socks
Comfortable, easy-to-wear unisex fashion compression socks to match any outfit.

✕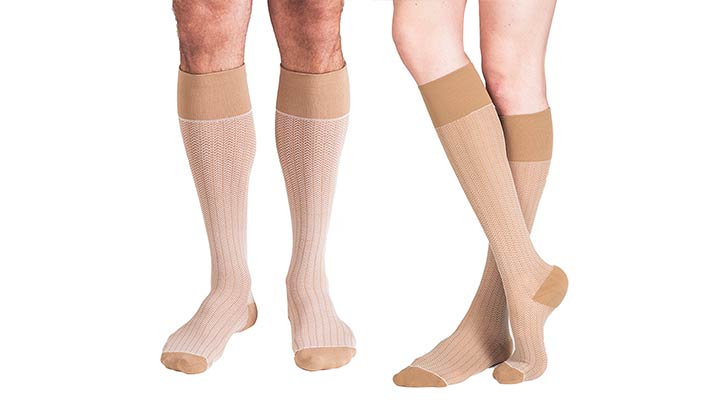 About Herringbone Unisex Compression Socks
Update your look with a classic, versatile compression sock for men and women. The Rejuva® Herringbone (15-20) unisex compression sock delivers fashion and function with moderate compression. A cushioned feel of a sport sock, the padded heel and toe deliver extra comfort and durability to relieve fatigue, aches and swelling. The Herringbone 15-20 mmHg provides a roomy toe box for extra wiggle space and a wide top band to keep the compression socks up and in place. Ideal for pregnancy or when traveling.
Explore the Features
Firm Compression 15-20 mmHg
Moderate graduated compression combined with designer fashion pattern for a comfortable, non-binding top band
Padded Heel and Toe Box
Delivers extra comfort for all-day wear, easing minor fatigue, aches, heaviness; swollen feet, ankles and legs; spider and mild varicose veins
Wide Toe Box
Extra wiggle room and prevents skin irritation
Highest Level of Fashion
Fashion patterns knit integrally into the garment for stylish, supportive compression legwear
Luxurious Fiber Blend
Smooth and luxe fabric for incredible, all-day wear
Multi-Dimensional Stretch
Designed for an easy on application and removal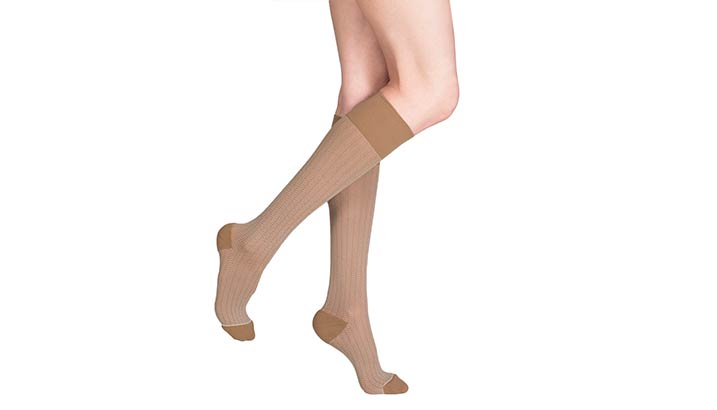 Recommended for the following conditions:
Foot Problems
Minor Fatigue/Aches
Swollen Feet, Ankles and Legs
Athlete's Foot
Mild Edema
Vericose Veins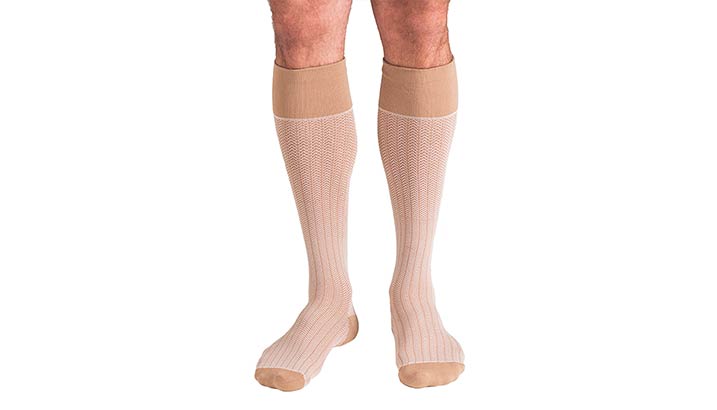 Additional Details
Sizes: S - XL
Compression Level: 15-20
Colors: Sand, Marine
Material: Nylon with Lycra
Collection: Rejuva
Type: Unisex Non-Reimbursable
Product Care
Wash in warm water, by hand, or use the gentle cycle on your machine with a delicate detergent. Use of a wash bag is preferred. Do not use bleach or fabric softener.
Machine dry on low heat or hang to dry. Do not wring product.
Never iron or dry clean
Learn More
Compression Support Levels
Understanding Varicose Veins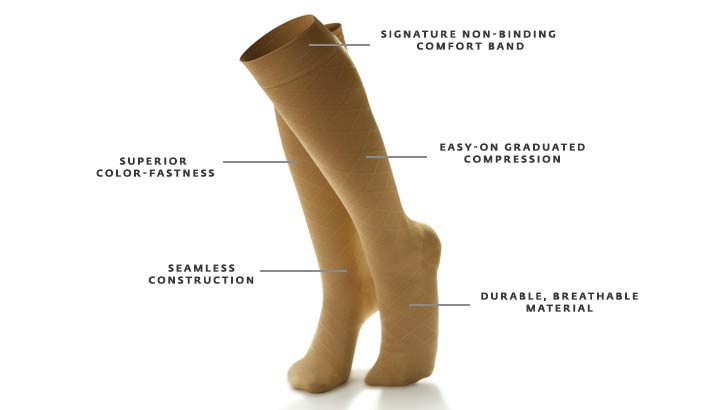 Dr. Comfort Technology
Engineered with advanced technology and high-quality material, our compression wear products combine function, fashion and comfort for preventative and therapeutic support.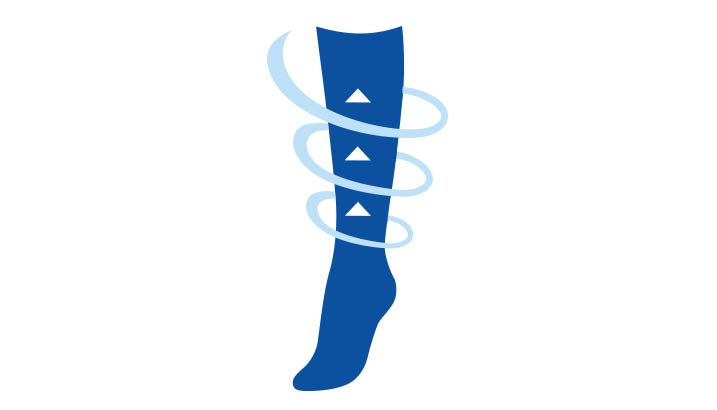 Compression Support Levels
Determining the right compression level can be tricky. We're here to help. There are four compression levels, which are measured in millimeters of mercury (mmHg). The higher the numbers, mean more compression.
10-15 mmHg: Low to mild compression, relieving minor swelling of feet, ankles, and legs.
15-20 mmHg: Moderate compression, relieving tired, aching legs, and swelling of feet, ankles, and legs. Helps to prevent varicose veins and spider veins.
20-30 mmHg: Firm compression, relieving and preventing moderate to severe varicose veins. Helps to manage ulcers, circulation and more.
30-40 mmHg: Extra firm compression, healing severe varicose veins, ulcers and more.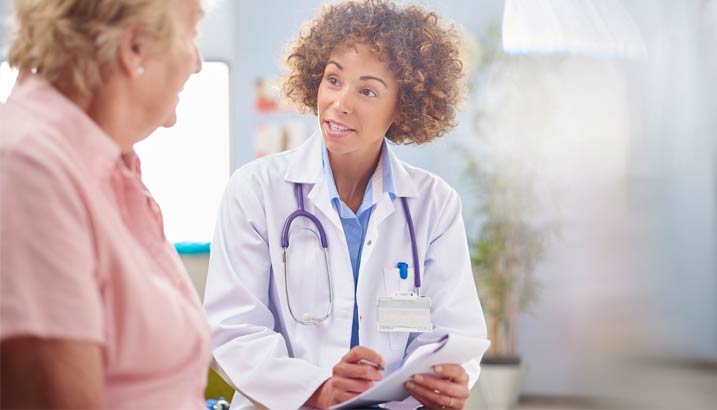 Understanding Varicose Veins
Varicose veins (also known as varicoses or varicosities) happens when the veins become enlarged and overfilled with blood. Usually affecting the legs, ankles and feet because they are the farthest from the heart and gravity makes it harder for the blood to flow upward. Symptoms can be skin discoloration, pain, swelling, aches or ulcers. Fortunately, wearing compression hosiery can ease pain and prevent varicose veins from getting worse. Rejuva Herringbone 15-20 gently squeezes your lower extremities, circulating blood more efficiently in the veins and leg muscles.
You May Also Like
View Details

Rejuva® Argyle Socks (15-20)

Special Price

$14.40

Regular Price

$35.99

As low as:

*Final sale with the exception of manufacturing defects where standard warranty holds

Moderate compression sock with a timeless design for all-day wear.